This is a great recipe I made up.
Start with your own basic meat loaf.  If you usually only use one egg, add another
Ingred:
1 box frozen creamed spinach
1 package dry ranch dressing mix
Parmesan cheese
Swiss cheese
Mix your meat loaf and lay it out on tinfoil.  Flatten it out quite thin
Sprinkle with ranch dressing mix
Spread cold defrosted creamed spinach
Sprinkle with parm cheese
Top with thin slices of swiss cheese
Roll up using the tinfoil as a guide.
Pinch in ends and length of loaf seam to seal well
Brush with egg white, especially the seams
Bake at 325 degrees for 35-45 min.  Bake low and slow to prevent leakage.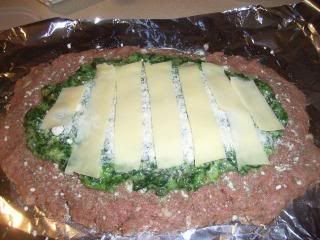 Patty
www.snowcolabradors.com