A reputable breeder will have a clause in their contract that if at any time in the life of the pup the buyer can not keep the dog that it must be returned to the breeder.
This ensures that the dog will be placed in the proper home. At no time is the buyer allowed to place the dog themselves (unless the breeder okays the home buyer has in mind) and buyer is never allowed to place the dog in a shelter.
This has only happened to us once in 44 years of breeding. Last year I took back an 11 month old black boy named Charlie.
Why was he returned? Your gonna love this…….
"He sheds, he smells, he is out of control in public" My first thought was they did not socialize this pup. They did not follow my intructions on puppy obedience class and they admitted it. Although they had a private trainer to the house (which is great) it does not teach a pup to socialize properly around other dogs and people.
Well, I took Charlie back and he was the most well behaved boy. He was incredibly smart to boot. Of course he sheds; he's a Labrador. But, he did not stink and he was "not" out of control in public. I took him to nursing homes to visit patients and he was an angel.
There was absolutely nothing wrong with him. I came to the conclusion that the wife did not want him any longer. Believe me I screened this family well and even worked with their young daughter in my yard, more than once, to become accustomed to my girls because she had a bit of fear of dogs. She got over her fear – it was not a factor in giving him up.
I took him to my vet for a full check and heartworm check (buyer admitted forgetting to give the HW meds) and he got a clean bill of health.
Charlie was with me for about 2 months until I found the perfect home for him. He is living with a young couple who absolutely adore him. I helped them get into a novice obedience class and the trainer could not believe anyone would give up such a smart, well behaved boy. They went on to the advanced class as well.
So the story has a happy ending. Had I not found the right home Charlie would have stayed with me for the rest of his life. Believe me it was hard enough to give him up at 8 weeks of age and to have to do it again was a heart ache. But knowing he was going to the right home this time around was a big help. But I still cried when he left, just like I did when he was 8 weeks old and left us. Knowing he is loved above and beyond and finally in the right place makes it all worth while.
Here is my wonderful boy lovin his new home and wallowing in the water as a Lab should.
And to me it was a blessing that he was with us for his first birthday; even his brother Ollie and Clyde were here to celebrate, along with his momma and grandma: we went to DQ!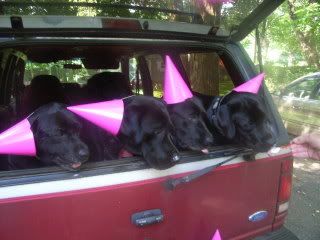 Here he is hanging out in my yard with momma, grandma, brother Clyde and Uncle Murphy
Remember, a reputable breeder will always take a pup back for any reason. Sometimes it's for a better reason than in Charlie's case; job transfer out of the country, illness in the family, etc.
Thank you Ryan and Courtney for loving my sweet boy and giving him the best home ever. You two are the best!
Patty
www.snowcolabradors.com