My mom had a stroke 4 months ago and I have been taking all my Labs to visit with her and the other patients at the rehab facility on a daily basis.
It is so heart warming to cheer up a patient with a sweet Labby head in their lap while they pet them.  They talk to my babies and have a big smile on their face.  Many patients lean over and ask for kisses and my babies give willingly (as most Labs do)
Miya, Jazz, Charlie, Clyde, Ollie and Captain and my sister's yellow boy, Brutus, have all made visits.  The entire staff love our Labs too.  They have become a permanent fixture there.  Especially Miya and Jazz.  Everyone refers to them as "the girls".
Charlie, Clyde and Ollie are only a year old and rambunctious pups but when at the rehab they are so calm around all the patients.  Even those that can't speak properly or ailing from other problems.  All these patients are in wheel chairs or use walkers and not one of my dogs shies away from them.
I love to visit daily and bring joy to all the patients.  Its fun to go in with a different black Lab each day and they say  "Hi Jazz",  and I say "no, this is Jazz's mom, Miya, or Jazz's son, Clyde, or her son Charlie, or her son Oliver.  LOL
We are becoming quite famous there.  I have been told the patients talk about all my babies in the recreation room.  When we stand at the entrance to the rec. room many patients wave us in so they can visit with a sweet Labrador.
This is Jazz visiting mom and other patients.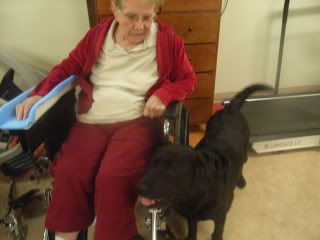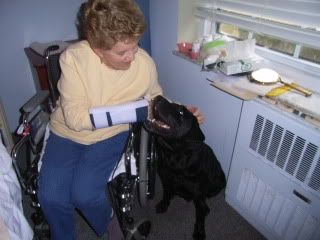 Clyde climbs in bed with a Lab lover patient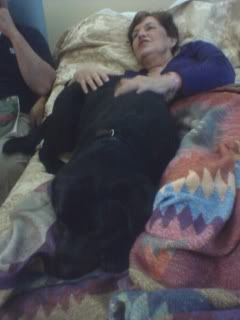 Clyde and Oliver visiting when they were only 5 months old. (this is from when mom was in rehab from a broken hip 9 months ago)
Oliver gives mom a big wet kiss
My sister's boy, Brutus, visiting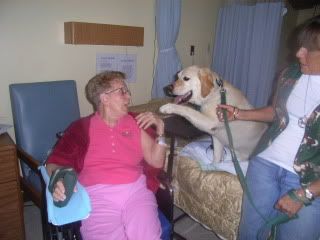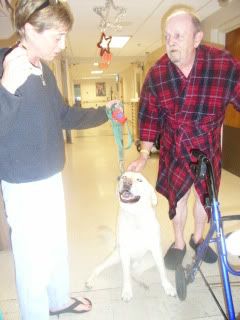 The nursing staff is just great.  They give us vanilla ice cream cups for our babies.  I get the fun of spoon feeding them
Brutus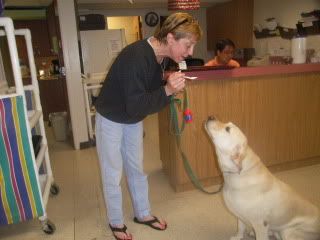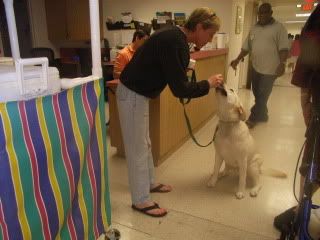 Miya